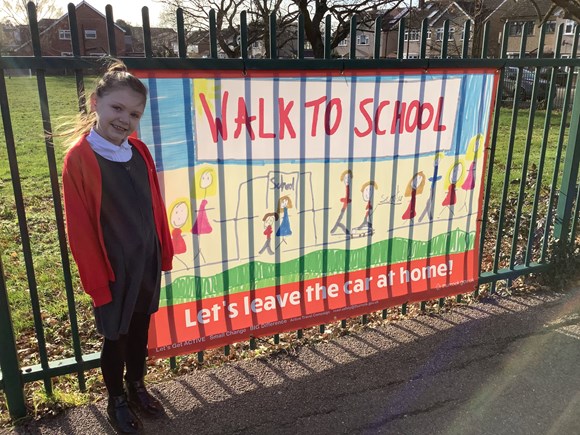 SCHOOLCHILDREN across Thurrock have seen their winning poster designs transformed into banners after taking part in a competition to highlight the importance of active travel on their school journey.
Thurrock Council's Road Safety Team launched an active travel initiative with eight schools in October 2022 to promote ways to travel sustainably and help reduce congestion around schools in Thurrock.
The scheme also asked pupils from Arthur Bugler Primary School, Chadwell St Mary Primary School, East Tilbury Primary School, Warren Primary School, Thameside Primary School, Woodside Academy, Dilkes Academy and Horndon on the Hill Church of England Primary School to design posters about their experiences and thoughts of active travel.
The schools voted for their winning design and the posters have been transformed into banners, which have been put up on the railings outside each school.
Cllr Ben Maney, Cabinet Member for Transport and Public Safety, said: "Our Road Safety Team work closely with schools across the borough to promote modes of active travel, such as walking and cycling. Since the campaign started, they have spoken to more than 3,500 pupils.
"Well done to the winning children whose designs were picked to be displayed outside their schools."
Cllr Barry Johnson, Cabinet Member for Children and Education, said: "It's fantastic that our Road Safety Team continues to look at ways of working with schools to promote different transport options. These banners are also a good reminder about the benefits of active travel including health and well-being and the environment."
A member of the council's Road Safety Team visited three of the eight schools last month to present the banner to the winning pupil, who each also received a Waterstones voucher for taking part.