A POLICE force that has only 3% of officers from ethnic minority backgrounds has defended using actors for a recruitment drive.
Essex Police used the actors instead of real officers for a recent diversity campaign, shared with Hampshire Police.
The move has been described as "disappointing" by the National Black Police Association.
But Chief Constable BJ Harrington said it enabled them to "leave officers on the frontline" and protect identities.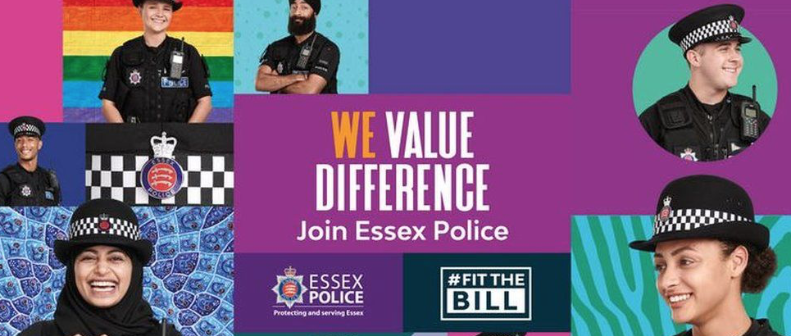 The social media adverts and posters were made as part of Essex Police's We Value Difference campaign, which aimed to dispel "myths that you have to be a certain type" to be an officer.
On its website, the force said the drive focused "on nine strands of difference: personality, age, cultural background, ethnicity, sexual orientation, gender, language, education and faith".
Mr Harrington said only 3.6% of his force was drawn from ethnic minority backgrounds compared to about 7% in the working population of Essex.
"We did use actors – to leave officers on the frontline and to make sure officers could go into covert and other roles," he said.
"It's difficult to extract them at the moment – we're busier than we've ever been."
He said a "record" 1,300 applications had been received in response – and "real stories" from officers were featured on its website.
"There's more work to be done, but I think this is a really good start," he said.
Hampshire Constabulary said more than 16% of applications came from people of black and minority ethnic backgrounds due to the campaign, compared to 6.8% currently in the force.
It said three of the four videos produced to improve diversity in its force featured its own officers and staff.
Hampshire Constabulary said it paid Essex Police £20,000 towards the video after being approached by the force. It said it supported actors being used as it could otherwise threaten operational work and staff might also withdraw their permission for photos.
"We are keen to improve our diversity and Essex was able to demonstrate a strong track record," said a spokeswoman.
"The observation that the parts of our recruitment marketing that use actors could give a false impression is something we will take on board."
National Black Police Association president Andy George said officers from under-represented communities needed to be seen.
"I'd say the video was really innovative – it was well received by many in the community as well as our membership, but it is disappointing it wasn't officers who were used," he said.
"I believe there was a request that was sent out for officers to take part but for some reason they didn't want to.
"The main thing for me is what action followed – our membership and black, Asian and minority ethnic officers and staff should really be the ones driving that action and engagement with ethnic minority communities to try to increase that representation."